By Maria Sotolongo
The truth about parenting
(Short post example)
What do Ben Affleck, The Rock and Brad Pitt have in common? No sleep. That's right, even Hollywood dads are not immune to sleep deprivation. They all said the same thing when I asked them about the biggest challenge they faced as new parents. Before becoming a mom, I used to think I understood what they meant (insert laughter here). You have no idea what that means until you're a parent, it's the middle of the night, and you're about to change a third diaper.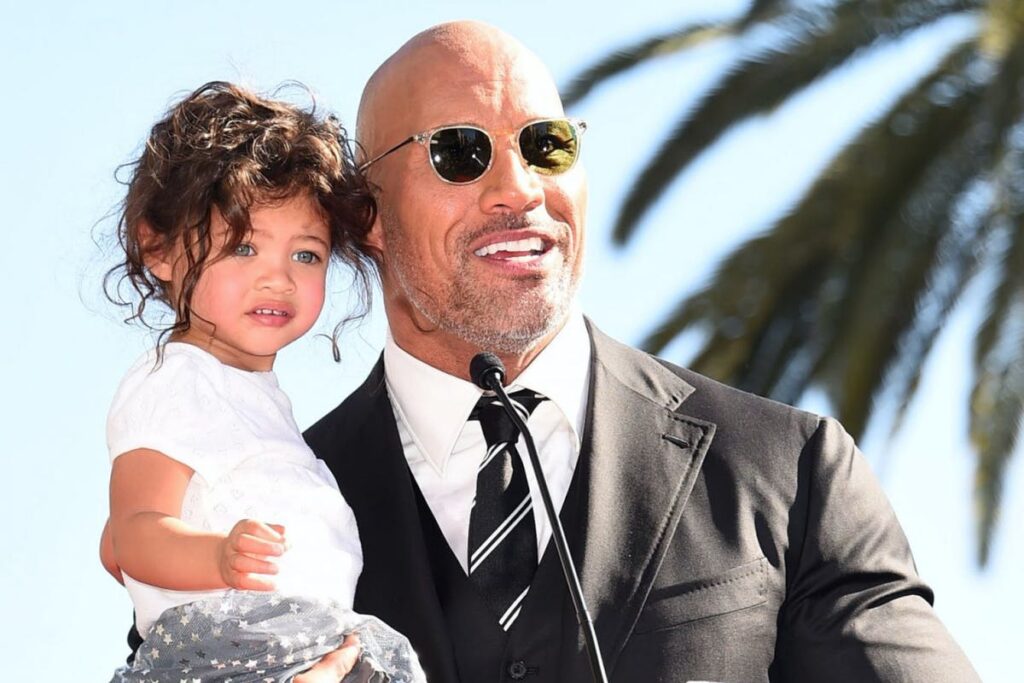 It doesn't get easier. They say it does. They also say that if you have one kid, the second or third are easier. Well, they're lying. Who is "they" anyway? From the moment your kid can walk, to the moment they can talk, things start to get dicey. So enjoy the baby stage, if they sleep, that is. Because the baby stage is the only time you can actually kind-of control their lives. When their little bodies fit in your arms, snuggled up and cozy, you can actually have a notion of what your day will look like.
Ok, let's not be dramatic. Parenting can be fun. And it is. But the truth is, the days of similar parenting styles that previous generations savored are long gone. We now have a wide array of parenting styles. Raise your hand if you're a recovering helicopter-mom!
The type of parent you choose to be depends largely on the day. Or does it? Experts say there are four types of parenting styles: authoritarian, permissive, disengaged and authoritative. Which are you?
---
Head Under Water
(Long post example)
A forty-year-old pregnant woman about to give birth at home to her third child. Yes, that's me. I started having very mild cramps around 10 am. By noon, I told my husband to come home from work. Though I still didn't have much pain, I wanted him with me.
Since labor with our other two kids had started in the silence and peace of the night, the fact that it now was daylight threw me off a bit. I wanted it to be dark, to be alone in my room, just preparing for the real thing, if it was going to happen.
The cramps turned into soft contractions, with no definite pattern, but now I knew that this was real. I asked my mom to take the kids, 6 and 3 yrs. old. At first, I thought that I wanted them to be present during labor, but something told me that we needed to be alone.
As they were leaving, at 3 o'clock, I got my first strong contraction. Phil said we should call the midwife. I hesitated because I thought it was too early, and we should wait to establish a pattern. But he didn't want to wait, given our birth experience at home last time, when we delivered our son by ourselves because the midwife didn't have time to get here! As life-giving and empowering as that was, I didn't want to do that again. I'm glad we listened to my husband's instincts.
We took a minute to breathe and acknowledge that this was it, we were going to meet our baby today. We turned on music, closed the curtains, had flowers in each corner of our bedroom, and center stage sat our birth tub.
My sister came at 3:30 p.m. She would act as my doula/photographer and a crucial part of my labor. Contractions were definitely taking my breath away. Our midwife arrived at 4 p.m. She saw me having one contraction, and asked Phil to fill the birth tub. In my mind, I thought it was too early. Again, glad we followed someone else's instinct.
It took 30 minutes to fill the tub. During that time, each contraction pushed me more and more to my limit. I could no longer talk and laugh between contractions. I was focusing on each moment and trying to listen to my body, telling me what position to take. Now it was time to be aware of my own instincts.
I sat on the birthing ball, squatted, leaned on Phil's back, sat in our bed, rocked, breathed deeply, and looked at the affirmations I had posted on the wall. "This birth is my chance to hold hands with God", "I surrender sweetly to each moment of my birth. "
The birth pool was ready. I got in. Heavenly warmth. What a relief.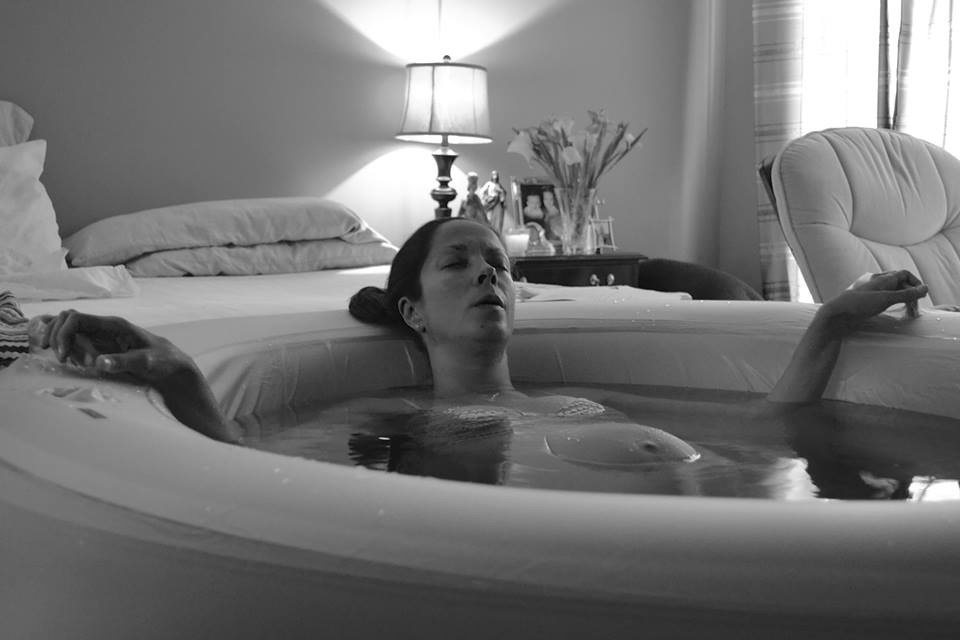 For a few minutes, I didn't feel pregnant. My body could float. I relished the moment. I thanked my midwife, my sister, and my husband for being with me. I verbalized my excitement, realizing that I deserved this birth. That there was nothing to fear. I let myself cry, full of joy, until the next contraction took over.
There didn't seem to be a break. With my last home birth, I snored between contractions. They were intense but I had time to get my strength. Now, this erupting volcano of life was almost unbearable. My birth team would chime in every time I said I couldn't do it. Or that I didn't know what I was doing. They reassured me I was doing everything right.
My midwife monitored my blood pressure and the baby's heart rate intermittently. Most times she would comment "healthy baby, great blood pressure, looking good." But then, she didn't say anything and I saw something in her face.
"What's wrong?" I asked.
"I think maybe the baby's too warm. Let's try to get you out of the tub for a while. Maybe you can empty your bladder, " she said.
I swam in fear at that point. I tried to get up, but a contraction slapped me down. I wailed like an animal. The guttural noises I made felt freeing and necessary. I gripped on to Phil's strong arms as I knelt in the pool, and then I felt a pop. My water had broken. I leaned over a side of the tub, begging for a break. My sister put the camera down and came next to me. She whispered: "Let go of your fear. Your baby is in the right position. Visualize him coming down. See his head down." Fighting tears, I did what she said. I saw his head down.
We somehow got me out of the tub and over to the toilet. I barely made it. Forced myself to sit down. I felt a tremendous urge to push. I did. SO MUCH PRESSURE! Felt like déjavu. Last time, giving birth to our first son, his head came out exactly where we stood now. I pushed and reached down to touch his head trying to come out. But unlike last time, his head didn't slip out effortlessly.
"Let's go back to the tub," our midwife said.

"I can't walk," I assured her.

"We'll carry you," my sister yelled.

"She needs to walk," the midwife insisted.

"I've got you babe," Phil confirmed.We made it to back the tub. I could barely lift my leg to get in, but my birth team held me.
I knelt in the warmth again. Put my head against a side. My hands holding Phil's. Waiting for the next urge to push. It felt like forever. My midwife told me to reach in and see if I could feel the baby's head. I did. And I actually felt it going back. What? That shocked me. But my midwife said it was ok. That my body was giving me a break. More eternal waiting. I prayed and asked God to not let go.
Then there it was.
The urge to push again.
So much stronger than I remembered with my last birth. Would my body break if I pushed? Could I please order an epidural? But no drug could stop me now. I pushed.
His head came out. THANK YOU JESUS!
We knew he had the chord around his head because we saw that on our 37-week ultrasound. My midwife reached in the water to unravel it. Again, it felt like time stopped. We tried unsuccessfully to unwrap the chord. Our baby's head was out, underwater. He hadn't taken a breath, of course. But the midwife said I had to get out of the water.
With my baby's head between my legs, I quickly got out of the tub and took a knee, my backside facing my midwife, husband and sister. All three of them told me to push. No one screamed or seemed worried but I sensed the urgency to get him out. No slipping out hurriedly like my last birth. There was something going on.
I felt like I was pushing with no results. Later, I found out that our baby's head was leaning against his shoulder, and both the head and shoulder were trying to emerge together. The chord was getting stuck on the shoulder, giving us a tough time getting him out. Miraculously though, our baby finally came to us. The midwife placed him on a towel. He wasn't breathing yet. We stimulated him, talked to him, welcomed him, blessed him, and when I picked him up, he started to cry.
We did it. We had a healthy 9.7 lb. boy in our arms. He cried and cried, his chant, letting us know he was alive. We cried with him.
---
Hard conversations to have with your kids
(Short post example)
Where do we go when we die? What does gay mean? Is Santa real? I've heard them all. If you have a kid over 5, then you might have gotten more than a few questions from them that has stopped you in your tracks. How do you answer?
Experts agree that the number one thing to do is STAY CALM. Not always easy to do. But then again, nothing related to parenting is as easy as they say. Take a moment, and then:
Ask why they are asking.
Don't say too much. Depending on their age, they might not be ready to hear the whole truth.
When you're not sure how to answer: give yourself time and say something like "What a great question! Let's finish brushing our teeth and we'll talk about it."
Make sure they know they are safe and it's always ok to ask questions.
Share your emotions. Tell them how you feel and how you are always there for them.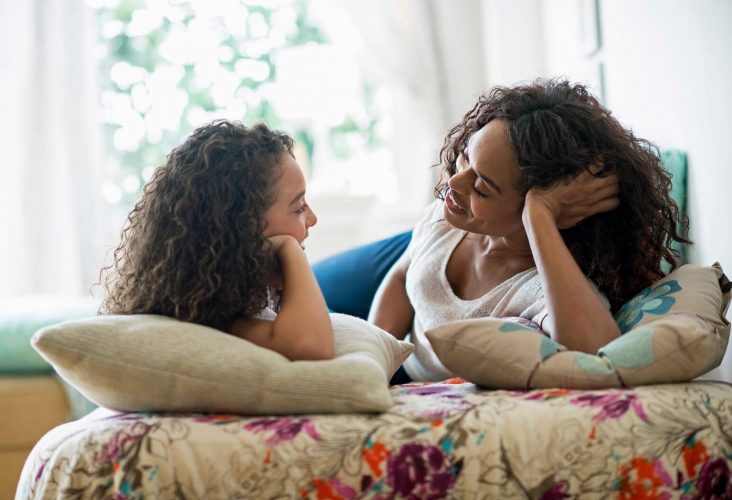 When my son asked me why we believe in God, it really caught me off guard. Especially because we were at the grocery store, and it came out of left field. He had asked me many heart-pumping questions before, like why did Ms. Smith say she gave a present to her wife? Or why people believe in Buddha? Or what the number before infinity is? I mean, this kid goes deep. Every child is different, but with the advancements in technology, they are exposed to so much more, much earlier than previous generations.
What about the famous "what is sex" question? Again, the detail with which we answer depends on the age of the child. When my 7-year-old asked me, after probing him with where he heard the word, l told him that it was when two people shared loving actions in the bedroom or a private place. Then of course he asked me what loving actions were, and I said heavy kissing and touching, at which point he said "ewwww!" and we were done.
Another tough one is our daughters ask: "is it true that when women grow up, they bleed every day?" I was glad to quickly answer that one with a rigid "NO!". Then I asked her why she was asking, and she told me that she over-heard older girls at school talking about it. She was 10 at the time, so I though it was appropriate to go a little deeper with the explanation. It was right before bed-time, though. I asked her to think of more questions she might have about it, and told her we would finish the conversation the following day.
Our children process information differently than we do. They take a little bit at a time. That means that they will come back with more questions about the same topic, as they grow up and are ready to get more nuggets of truth.
---
Are you a yeller?
(Short post example)
The first step is admitting it. I am a yeller. Next comes change. Hopefully. Re-training, re-wiring, looking at triggers and reactions, finding creative ways to let out steam without yelling at the kids and letting them take the brunt of our exhaustion and anxiety.
Besides working out more, reading, learning to make the perfect margarita and going to the beach this year, a high priority/resolution for 2022 is to stop yelling!
I grew up in a Latin household, where five kids out-numbered the adults, so there was as much yelling to get our attention as there was to discipline or reprimand us. There was even yelling during celebrations. Loud voices were the norm for the expression of most feelings.
When I became a mom to one kid, I yelled a little. With the second, I yelled more, and after having kid number three, my yelling has gotten out of hand. And then I realized, I don't want to keep going down this path.
I stumbled upon "the Orange Rhino Challenge" and decided to give it a go. What a fabulously challenging idea, to parent without yelling. But could I take the challenge of 365 days of NO YELLING??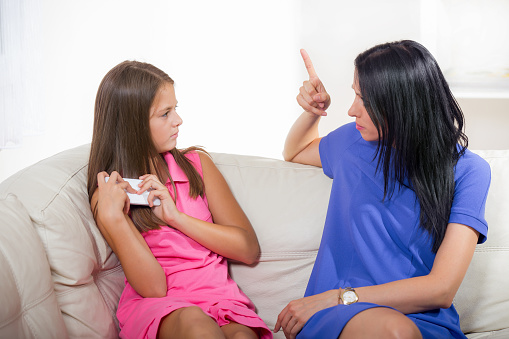 Simply put, the challenge states that when you feel you are going to yell, you say "Orange Rhino". And when your kids start to see you are losing it and would love to yell at them, they say "Orange Rhino". Sounds ridiculous, but it's not. It suddenly makes you think about what you want. About what is REALLY happening, and you choose something other than to YELL!! (Read more about that here if you want to take the challenge. There are worksheets, and tip sheets, and forums to reach out to others, but the main thing is, it's supposed to help you yell less.)
I started optimistically and lasted ten long days. But then… It was night time, I was exhausted, my husband was already in bed, and the baby had just fallen asleep. Just as I got my feet under the sheets, our 4 year-old came into the bedroom, playing around, whispering that he couldn't go to sleep. This happened FOUR times, and the fourth time he woke up the baby. He ran to his room and I ran after him, screaming, cursing the frigging orange-rhino and telling him that I would turn the closet light out and close his door if he got up again and that I was sick of him getting up and that I wasn't taking it any more. I wanted to say so much more. But I had to get back to the baby. And I was already filled with guilt. Screw the orange rhino. What about me? Who was going to tuck ME in? Who was going to protect MY sleep? Who was going to make sure I could sleep?
I have learned a few things from this challenge so far:
1. I usually yell because of what I feel, not because of what the kids have done.
2. I usually yell when we are in a hurry.
3. If I just pause a few seconds and literally step back, I realize the situation is not so horrible.
4. My kids are wise and sensitive and generous and they deserve better from me other than the irrational, selfish yelling.
5. I am looking inside myself and becoming more conscious. More aware of the importance of the words that I use with my kids.
The challenge states that if you yell, you start over from day one. I am now on day 3 again.
I have all of 2022 to choose love over yelling. Cheers to you Orange Rhino.
---
Raising a kid with anxiety
(Long post example)
My 8 -year-old daughter raised her hand in school and answered a question. This had never happened before. I fought back tears when her teacher told me.
Maybe your child is too loud, too active, too distracted, or too aggressive. But too quiet? Is there such a thing?
We've all heard of being afraid of spiders or roaches or public speaking. But afraid of speaking anywhere outside the home?
A common thread in my life has been talking. I've been a cheerleader, a hostess, an interpreter, a teacher, a salesperson, and a reporter. I talk to strangers, I have no issues speaking in front of large crowds, I love starting a conversation, I like talking for hours to anyone, any time, any where about anything.
Our daughter, though, is more like her dad. She is observant, curious, and comfortable with silence. She can also be explosive, rambunctious, and comedically contagious at home. She sings beautifully, has theatrical talent, and bends with flexibility like a gymnast. But outside of the house she has always been very reserved and quiet, never saying hello to anyone, barely answering simple questions like "how old are you?" or "what is your name?"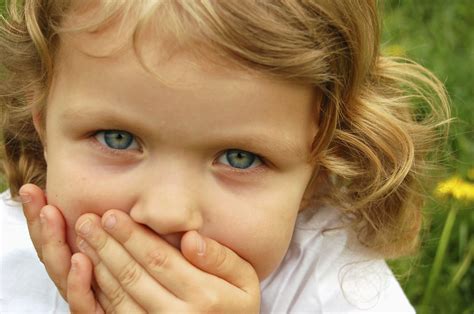 As a baby, I was the only one that could hold her and I couldn't put her down. I carried her everywhere around the house. I cooked with one arm, holding her with another. Going in the car was an excruciating trip of deafening screams. She was intense, super-sensitive and did not like to sleep. Noises and light bothered her, and she nursed ALL-THE-TIME. Even my mom who has had five kids (and had 8 grandkids at the time) would tell me that she had never heard a baby cry like my daughter did. I researched and found Dr. Sears' explanation of "high-needs babies" and it fit.
As she grew up, everyone told me "she's just shy, she'll outgrow it!", or "don't over-protect her so much", or "put her in more social settings, classes or camps" and she'll get used to talking more.
Birthday parties were always tough. She would seem angry and cry, clutching on to me the whole time. She hated piñatas, pictures, and people screaming. Even at her own birthday parties. I decided to cancel her 4th party because she didn't want so many people to come over. And at her 5th and 6th bday parties I decided to ask everyone to NOT SING happy birthday because it upset her so much. She did not like being the center of attention. At 7, she was the most comfortable she has ever been at her own party because it was a small group and it was at home.
When she was 7, her teacher told me she was concerned because she didn't see my daughter talking to any of her friends and that she barely talked to HER. It's as if a dagger dug into my heart. Why didn't she talk to her friends? It was tough listening to the teacher say that we should maybe see a speech therapist. I wanted to blame her and thought that she should know better and help my daughter rather than pawn her off to a therapist. Besides, my daughter talked, and has no speech issues, I thought. Plus, we had already gone to a therapist when she was 5 and she said there were no challenges. What the hell did the teacher think?? I was so hurt.
But suddenly, as I put the kids to sleep, all the details lined up and I started to think about it in slow-motion. The pieces of the puzzle came together. I heard a whisper: "Yes, that's what it is. It's going to be ok." I remembered what the therapist had said, that our daughter could have "selective mutism", which is when kids don't talk in certain settings because they feel anxious. I had shrugged it off when she was 5, but now I knew that's what she had. SELECTIVE MUTISM, an anxiety disorder that causes kids to not speak in public settings. I hadn't even looked it up because I discarded it back then. And the therapist moved far north of Houston and we never saw her again. But now there was no doubt in my mind.
I was partly relieved and partly horrified. Numb, unsure, confused.
I ran into the kitchen that night when it all came together, and told my husband. It all clicked. We sat and read everything we could on-line. THIS WAS IT. We cried. We prayed. We held each other in the unknown space of what this really meant and what we were going to do.
There is little research on selective mutism. Kids are often misdiagnosed or labeled as extremely shy or stubborn. But it's estimated that 1 in 140 kids have this anxiety "challenge", and it is usually in school that they become mute. These kids can speak perfectly at home, they are even LOUD and very verbal when they feel safe, but at social settings and at school, they do not speak.
As stated in www.selectivemutism.org : "More than 90% of children with Selective Mutism also have social phobia or social anxiety. This disorder is quite debilitating and painful to the child. Children and adolescents with Selective Mutism have an actual FEAR of speaking and of social interactions where there is an expectation to speak and communicate. Many children with Selective Mutism have great difficulty responding or initiating communication in a nonverbal manner; therefore social engagement may be compromised in many children when confronted by others or in an overwhelming setting where they sense a feeling of expectation."
There are different shades of it, as with many syndromes and disorders. Some kids can't even speak to anyone other than their mother. Others feel ok talking to kids but not adults. With Y, she mainly has reservations talking to kids but she is also usually silent around adults she doesn't know.
It's been a relief to find out more about SM. It's been a road map to make us all stronger. I always knew she was more than just "shy". And I am so glad that I have followed my gut. It's been challenging and lonely at times, seeing that no one understands what I'm going through. .
So what can you do if you meet a child with SM? Please don't think they are being rude or that they dislike you. They are really trying to overcome their anxiety.
Don't ask questions the first 30 mins.
Don't "expect" a hello. We are working hard at that.
Praise her or make a comment about her without making her the center of attention. Make it quick, like "I like your shoes", or "so happy we get to see u today".
If you can have one-on-one time with her, comment on what she's doing, (like a sportscaster who comments on the players). "You are drawing that rainbow so carefully", "Look at how well you jump rope", "I like the way you bounced that ball".
Ask her forced questions like "do you like pink or purple?". That way she can have a choice of answers. But avoid yes and no questions because she can always nod or shake her head and remain silent.
Once you do ask her a question, wait at least 5 seconds for her to answer. Just wait, don't answer for her or give up. You might need to ask again, and wait again. If she doesn't answer the question after 3 tries, move on to something else.
Don't take anything personally. She is a treasure that must be handled with patience, love and understanding.
God really does have a sense of humor, pairing us up as mother-daughter. I am an extreme extrovert, and my daughter is an extreme introvert. There is no doubt in my mind that we are in this together because we are meant to learn from one another and upgrade ourselves. The road has been rough, with kicking and screaming, fits and fury, complete sadness at not knowing what to do. But there have also been such abundantly fulfilling moments, cloud-lifting joy, and immense connection, that I wouldn't trade anything for the world.
Here are some useful websites with more information about SM.
http://www.selectivemutismcenter.org/aboutus/whatisselectivemutism
http://ccf.fiu.edu/for-families/clinical-services/brave-bunch/
http://www.selectivemutism.org
http://www.childmind.org/en/health/disorder-guide/selective-mutism
http://www.selectivemutismfoundation.org
---